Palton Morgan Holdings (PMH), a real estate firm, has stressed the need for equity at workplaces and all facets of life.
This was the focus of discussions at an exclusive Tea Party PMH hosted in Lagos to commemorate this year's International Women's Day (IWD), with the theme, #EmbraceEquity.
Palton Morgan Holdings is a frontline player in the luxury segment of the Nigerian real estate market. It is the parent company of Grenadines Homes, The Oceanna and Propertymart which are developers of super luxury and affordable housing for first time home owners respectively.
Two Amazons– Delphine Misan-Arenyeka, a member of Palton Morgan's Board of Directors and Uwa Ohiku, Partner at Jackson, Etti & Edu were invited to speak on the theme of the day, #EmbraceEquity.
In her keynote address, Misan-Arenyeka described equity as fairness and justice, saying "Equity comes when women have found themselves; you must know who you are, what you want, and what you want to achieve.
"As women, we must be willing and prepared to develop ourselves; we must put in the work," Misan-Arenyeka said, adding, "this is the only time we can talk about equity."
She advised women to focus on their goals and know that there were no limitations to what could be achieved, noting that "the unit of destiny is time; so, keep moving and refining yourself as you go on."
Also discussing the theme, Uwa Ohiku urged women to invest in themselves, stating that only women who were competent and qualified could seek equity.
"Be prepared for opportunities to come and never hesitate to knock on doors," she said, adding, "this is how you get invited to the table."
Ohiku advised that women should desist from getting results by making sexual advancement or accommodating such. She cited the experience of a student who, she recalled, had to report to the dean of her faculty to get a lecturer off her back, saying, "you have to be intentional to get things done."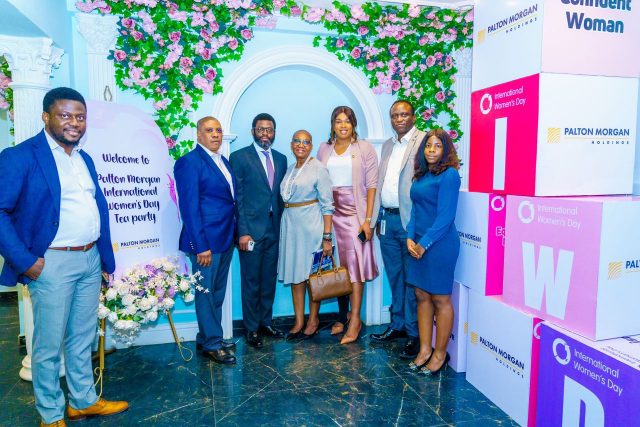 Victoria Jaja, the Brand Coordinator of Palton Morgan, noted that with this year's theme, #EmbraceEquity,  their women had the opportunity to listen and get inspired by other women.
Jaja, who gave the opening remark on behalf of Adeyinka Adesope, GMD of Palton Morgan Holdings, explained that to embrace equity means to understand the journey required to achieve women's equality. "The celebration also means to deeply believe, value and seek out a difference as a necessary and positive element of life, she said."
Adesope appreciated the women for their efforts in the growth of the organisation. "Your input is highly valued," he said, adding, "at Palton Morgan, we honour and appreciate all women from different walks of life who have contributed positively to our society."
International Women's Day is a global event celebrating the social, economic, cultural and political achievements of women. The day also marks a call to action for accelerating gender parity. Significant activities are witnessed worldwide as groups come together to celebrate women's achievements or rally for women's equality.
IWD is now observed annually as a global holiday on March 8 to draw attention to issues such as gender equality, reproductive rights, and violence and abuse against women.
The day dates back to the early 20th century and, since then, has assumed a new global dimension for women in developed and developing countries alike. The growing international women's movement, which has been strengthened by four global United Nations women's conferences, has helped make the commemoration a rallying point to build support for women's rights and participation in the political and economic arenas.
It is estimated that, globally, legal restrictions have kept 2.7 billion women from accessing the same choice of jobs as men and less than 25 percent of parliamentarians were women, as of 2019. It is also on record that one-in-three women experience gender-based violence and abuse.