According to The Kitchen Shop, designing the perfect kitchen is one of the most exciting remodifying projects a homeowner can take on. It allows you to be creative and implement practical solutions. Designing your perfect kitchen can get a little overwhelming if you don't know what you're doing.
With careful planning and consideration, you can create a beautiful and functional space that meets all of your needs. Here are some steps to guide you through the process:
Determine your budget: Before you start designing your dream kitchen, it's important to set a budget. This will help you prioritize your design choices and ensure that you don't overspend.

Consider your lifestyle: Consider your family size, cooking habits, and entertainment needs when designing your kitchen. Do you need ample counter space for meal prep? Do you need a large island for family gatherings?

Choose your layout: The layout of your kitchen is crucial to its functionality. Choose a layout that fits your space and meets your needs, whether that's an L-shaped, U-shaped, or galley kitchen.

Select the right appliances: From range hoods to refrigerators, appliances are an important part of any kitchen design. Choose appliances that fit your cooking needs and complement your design choices.

Choose your cabinets and countertops: Cabinets and countertops are the focal points of any kitchen design. Choose materials that are both beautiful and durable, such as quartz or granite for countertops and solid wood for cabinets.

Select lighting: Lighting is an important part of any kitchen design. Choose lighting fixtures that provide ample task lighting and complement your design choices.
 7. Consider storage: Storage is important to any kitchen design. Make sure to include ample cabinets, drawers, and pantry space to keep your kitchen organized.
Add finishing touches: From backsplashes to hardware, the finishing touches can really make your kitchen design shine. Choose materials and finishes that complement your overall design vision.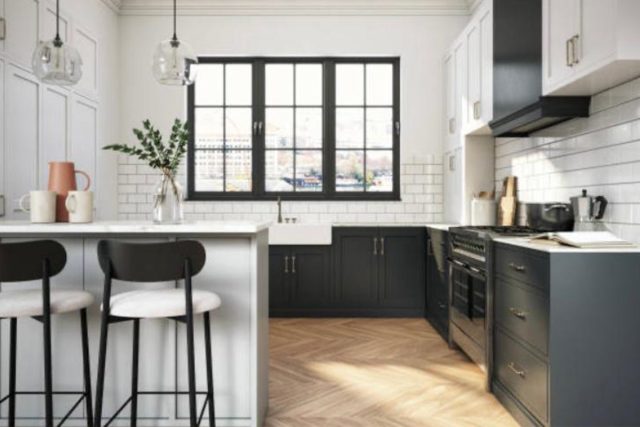 What do you Need in your Luxury Kitchen?
The kitchen is the showpiece of a modern home. A luxury kitchen design would have cutting-edge technology with the newest appliances and the highest quality materials.
The following things are some of the things you need in your luxury kitchen:
Larger kitchens with more space: bigger is better! With more people working from home or working hybrid jobs, homeowners want larger homes, overall. People also expect more from their kitchens now than ever. So luxury modern kitchen designs have more living space, more eat-in rooms, more storage, and more workspace.

Customizable Cabinetry: High-end cabinetry is an expensive feature, but absolutely a key consideration when planning a kitchen design. Beautiful, quality cabinetry is the foundation of any kitchen because it is a key design element that establishes the style of the space. Customizing your cabinetry allows you to think through the layout of the space and what your storage needs are, and has a quality and warranty behind it that makes this large investment worth it.

Mixed Countertop Materials: Countertops make a design statement and need to be chosen to match the style of your kitchen. Many are choosing to mix materials, to achieve a variety of textures, colors and contrast within the space. Complementing a granite or quartz countertop with wood brings warmth and contrast. Utilizing wood on an island often creates a high-end and beautiful custom touch to your kitchen that gives it a more lived-in feeling. But what's most important to remember is to pair countertops together that complement each other and bring either color, texture, or movement to the space, because that is something that newly designed kitchens incorporate, and this gives your space a unique design feature that works with many styles.




Make lighting a statement feature: What's a luxury kitchen without enough light to truly appreciate it? A true showstopper of a chandelier is sure to impress and will bring plenty of light into your kitchen, making it appear more spacious. It's also easier to prepare and cook food in a good light. A striking chandelier will instantly make your kitchen stand out. For a futuristic look in your kitchen, install LED lights along your worktops, behind glass splash backs, and under your cabinets. Choose some that you can change color by switching to create different atmospheres. This is a great option if you enjoy hosting parties.

Include built-in storage: make sure that you include plenty of built-in storage in your kitchen project. Hiding unsightly items is essential in a luxury kitchen and pull-out storage offers the ideal solution – either with a straight pull-out larder or in cupboard shelves that pull out and then fold out. You also need to make sure that all your kitchen items are still easily accessible.
Good luck with your luxury kitchen design, and don't forget to stop by our website often for more luxury real estate tips. 
REFERENCES
11 STEPS TO YOUR DREAM KITCHEN: https://thekitchenshops.com/blog/kitchen-design-how-to-design-your-dream-kitchen/
ESSENTIALS TO A LUXURY KITCHEN: https://krbcompany.com/15-essentials-to-a-luxury-kitchen/