Unveiling the Champions: Adeola Ogundimu and Euphemia Vincent Nwadialu
In the dynamic world of business, recognition, and reward play a pivotal role in motivating individuals and teams to reach for the stars. These accolades not only celebrate hard work and dedication but also inspire others to aspire to greatness. At Palton Morgan Holdings, this philosophy is ingrained in the company's DNA, and it recently took center stage in a thrilling sales race organized by the commercial department. In this remarkable event, two outstanding sales professionals emerged as the champions, each driving home in a car awarded to them as a testament to their dedication and resilience.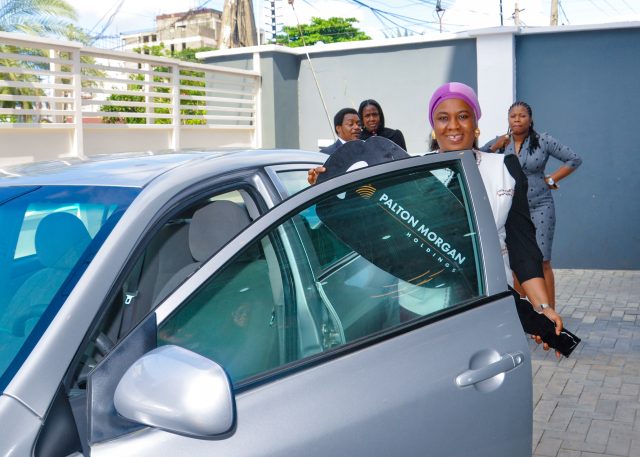 A Glimpse into Palton Morgan Holdings' Commitment to Excellence
Before we dive into the exhilarating details of the sales race and its victors, let's draw inspiration from Palton Morgan Holdings' core values, beautifully outlined on its website. The company stands as a beacon of innovation, sustainability, and unwavering commitment to excellence. These values set the tone for a corporate culture that not only values its employees but also actively nurtures their growth and success.
 The Sales Race: A Test of Dedication and Resilience
The sales race, which unfolded over several months, was not merely a competition but a showcase of determination and devotion. Sales professionals from diverse divisions within Palton Morgan Holdings set their sights on ambitious targets, pushing the boundaries of what was thought possible. The race was fierce, but it was fueled by a shared commitment to delivering remarkable results for the company and its valued clients.
Meet the Champions: Adeola Ogundimu and Euphemia Vincent Nwadialu
At the award ceremony, hosted by the Acting Group Chief Operations Officer Mr. John Fanibuyan, the applause and admiration of the entire Palton Morgan Holdings community now turned to the champions of this epic sales race. These two extraordinary sales stars exemplify the very essence of Palton Morgan Holdings.
Adeola's dedication to her clients is truly unparalleled. She doesn't just sell properties; she helps individuals find their dream homes. her tireless work ethic, coupled with her innate ability to understand the unique needs and aspirations of her clients, set her apart. She epitomizes Palton Morgan Holdings' customer-centric approach. She was awarded her price by the Director of Business Development Commercial Services Department Mr Oladimeji Olatunji-Audu.
Euphemia who was presented her award by Mr Hakeem Bakare the General Manager for PropertyMart possesses a remarkable knack for identifying lucrative opportunities. She has an uncanny ability to spot trends and a strategic mindset that consistently benefits the company's investors. Her persuasive communication skills have earned her accolades from clients and colleagues alike. Her commitment to helping clients achieve their financial goals is truly commendable.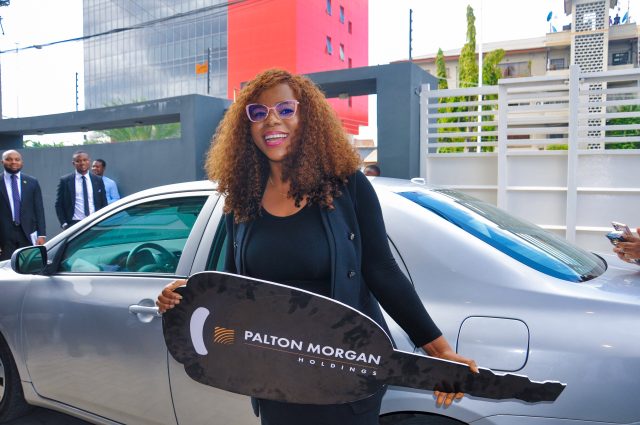 The Grand Reward: Cars for Excellence
The recognition for their outstanding performance went far beyond applause as both were each presented with the keys to a car prize during the awards ceremony held at Palton Morgan Holdings' headquarters. These cars symbolized the organization's profound appreciation for their unwavering commitment and tireless efforts.
Celebrating the Collective Spirit of Success
While the winners took center stage, the celebration was a tribute to the entire sales team's unwavering dedication and hard work, and their contributions were acknowledged in front of their peers. This event underscored the company's culture of recognition and appreciation.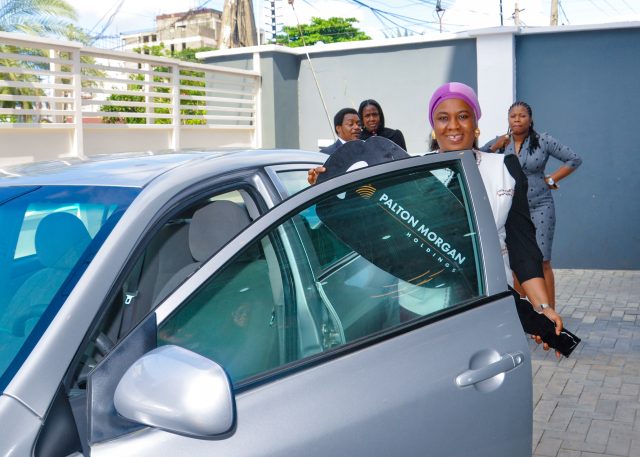 Palton Morgan Holdings: A Beacon of Inspiration
In a world where talent is the most valuable currency, Palton Morgan Holdings stands as a beacon of inspiration. The organization not only believes in recognizing and rewarding excellence but also actively cultivates an environment where employees can thrive and excel. The winners, now the proud owners of their cars, serve as living examples of the company's commitment to nurturing talent and fostering a culture of excellence.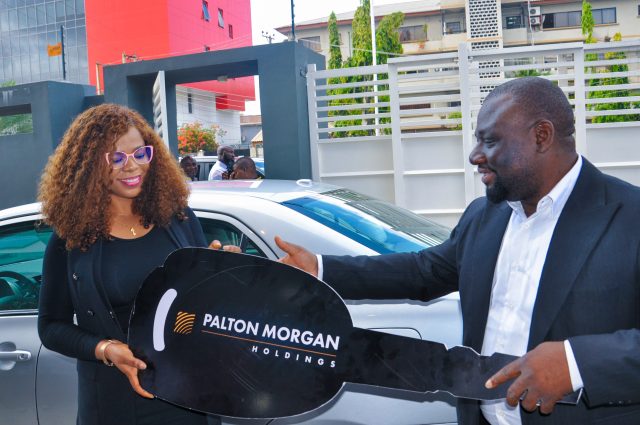 In conclusion, Palton Morgan Holdings has once again demonstrated its dedication to motivating its employees, encouraging healthy competition, and celebrating outstanding achievements. While the cars symbolize their success, it's the dedication and resilience of individuals like Adeola and Euphemia that drive Palton Morgan Holdings to reach new heights. They are not just two winners; they are embodiments of excellence in action.
So, if you are looking to join a vibrant team that is poised for success, check out our careers page or if you will like to be one of our elite realtors also check out our realtor's page. We look forward to having you.